Aluminium Window Shutters
Aluminium shutters or louvres are typically installed on windows, doors or partitions in residential and commercial properties. Shutters have the advantage of allowing users to control the amount of sunlight that enters a room, as well as to provide privacy and security.
In our tropical Singapore climate, keeping the interiors cool is key to comfort. Besides active cooling means such as air-conditioning or fans, shutters act as passive shading devices and treatments on windows to block direct sunlight and heat while inviting natural ventilation.
Installation
Aluminium window shutters normally come with a fixed frame with stiles and rails, within which are louvres (operable or fixed) mounted onto it. Installation requires the setting of the frame on either side of the window opening.
Security and Durability
Window shutters can also perform as a safety barrier for added security, as lock and latches can be installed onto the shutter system. Shutters are also child-friendly, as they do not have any cords that children can get tangled with.
Compared to curtains, shutters are relatively easy to maintain as they can be dusted or wiped easily. Shutters can also last for decades due to aluminium's durability. In addition, there is no need to perform any complicated removal for cleaning purposes. Shutters also have a larger surface area than blinds and therefore more efficient to clean.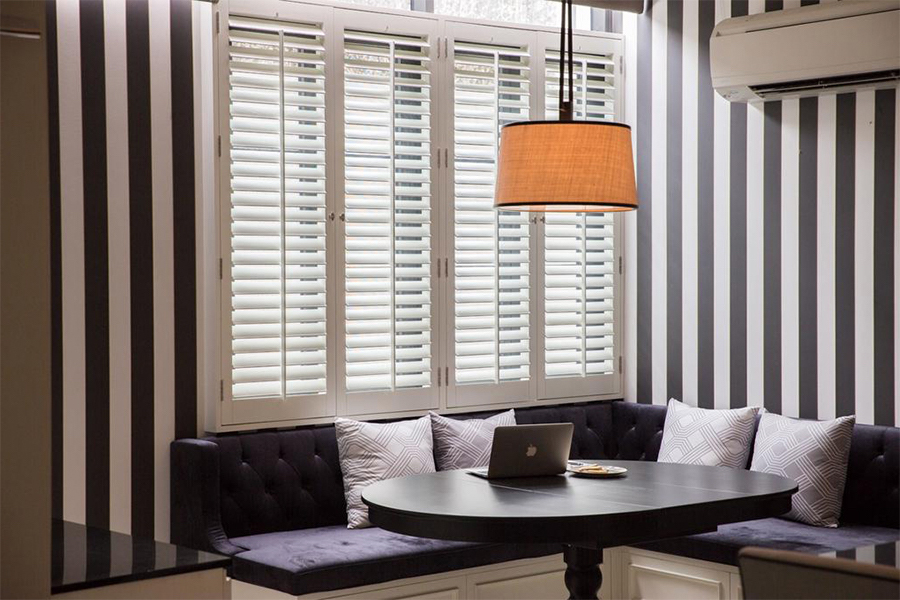 Plantation Shutters
Plantation shutters can instantly add a timeless touch to any room. You can't go wrong by deciding to install plantation shutters to any room, as they just fit with any type of decor and interior style you may have. You can have white coated shutters if you like the classic aesthetic, or powder coated to a darker colour for a more modern aesthetic. The good thing about plantation shutters is that they enhance the beauty of your home both from the inside and the outside, all while performing a very functional role in mediating the interior and exterior spaces.
Design Varieties
Plantation shutters come in many types of systems. The most common are bi-fold panels and sliding panels systems. The choice of systems depends on the space requirements as well as the access considerations. A combination of fixed and movable systems can also be applied of both top and bottom partitions to cater to your specific needs.
Interior Dividers
Shutters are also popularly used as interior dividers to partition internal spaces in a room. These can be built in the form of half-walls along passageways to give the room a unique character. With the characteristics of plantation shutters, privacy and light can be provided to give an airy feel to the room.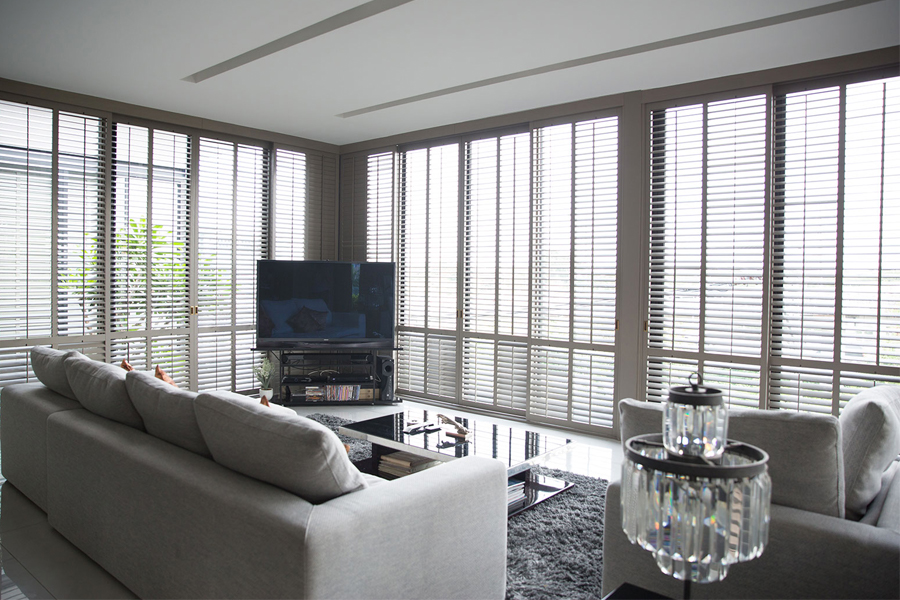 Adjustable Louvres
Our shutters are designed to be operable with adjustable louvres mounted on the shutter frame. Louvres of the window shutters can be adjusted to specific angles to allow more or less light in, and provide privacy while maintaining views of the surroundings.
Privacy
Our interior shutters can be manually adjusted to allow light flow and to control the level of privacy. Louvres can be adjusted at an angle where you can enjoy the view out but prevent prying eyes from viewing into the interior.
Natural Ventilation
Adjustable louvres not only provide visual privacy, opening them up can allow for maximum air flow for natural ventilation. This can be accomplished without adversely affecting your preferred level of privacy. For other features like blinds, there is usually a trade-off between privacy and ventilation as closing them off restricts air flow at the same time.
Shutters are also an ideal choice because they make no noise even as the louvres are adjusted. In addition, they are extremely easy to adjust, and are safe to use.